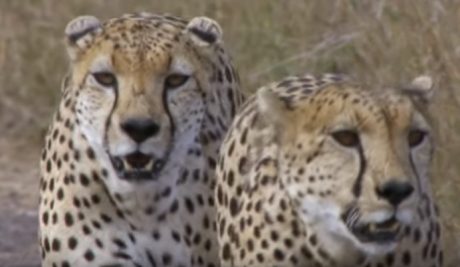 Cheetahs on the hunt in Kenya. Note the strong teardrop markings.
Contra-Violence

Course 12 Contra-Violence presents some radical and politically incorrect ideas about the options to be considered when kindness and non-violent action do not work. It will evaluate the ethical question of ahimsa, harmlessness, and the tactic of non-violent resistance proposed by Gandhi, Thoreau, the Dalai Lama and others. It will also break down the concepts of compassion, accountability, blame, morbido, revenge and reparation. Ultimately, it aims to emphasize the power of rage and transpersonal anger, and elucidate how to manage and direct these forces. Doing so, I also emphasize that to be handled correctly and effectively, those forces require sobriety and discipline, additional to an intimate bond with the Planetary Animal Mother, the Great Beast.
In Block 101 of this Course I take some pains to correct my original approach to this theme. Writing back to February 2010 when I initiated Rite Action on metahistory.org, I acted somewhat prematurely due to whatever was working on me at the time. ,2010 was a rough year and I felt disoriented, not knowing where to go with the Terma. My initial mistake was to equate or correlate the behavior of intraspecies predators with the prey-predator dynamic among non-human animals. Well, that was not precisely my error, but close. In declaring "open season on predators" I implied that hunting down and killing psychopaths and the enemies of life was an action of the human animal comparable to predatory behavior in non-human animals, such as the lion, the wolf, and raptors in the bird kingdom. But this is certainly not the case.
I will make my correction clear in Block 101 and elucidate it as the Course unfolds. As required reading for this Course I propose "The Biological Jew" written by Eustace Mullins in 1967, over fifty years ago. The 55-page PDF can be found on line. At page 34 Mullins makes the
Course Curriculum
§ HIGHLIGHTS AND PREVIEWS
101 OPEN SEASON REVISITED
Private: 12.101.1 Karma and Accountability

01:30:00

Private: 12.100 Open Season Part I

01:30:00

Private: 12.100 Open Season Part II

01:30:00

In development...
12.100 TAIGA

01:30:00

Private: 12.100 The RiddIe of Deviance

01:30:00

12.100 Telestics Surropredation

01:30:00

12.100 The Riddle of Violence Part I

00:00:00

12.100 The Riddle of Violence Part II

00:00:00

12.100 The Riddle of Violence Part III

00:00:00

12.100 Planetary Vision Versus Global Deception

00:00:00

12.100 Gaian Ethics and Rite Action Part I

100 years, 4 months

12.100 Gaian Ethics and Rite Action Part II

100 years, 4 months

12.100 Gaian Ethics and Rite Action Part III

100 years, 4 months

12.100 Gaian Ethics and Rite Action Part IV

00:00:00

12.100 Gaian Ethics and Rite Action Part V

00:00:00

12.100 Gaian Ethics and Rite Action Part VI

00:00:00

12.100 Gaian Ethics and Rite Action Part VII

00:00:00

12.100 Gaian Ethics and Rite Action Part VIII

00:00:00

12.100 Gaian Ethics and Rite Action Part IX

00:00:00