The Menhir is the current events/update page for Nemeta—like a campus bulletin board you find in the "student union" building. Entries posted in reverse chronological order can be found with most recent at the top for fast access.
The Menhir

The Menhir is the unique page in Nemeta that tracks and displays the ongoing activities of the School. Here you find the announcement of updates on newly added material, completed Blocks, Dakini Weather Watch (Who is on Shift), revisions, talks and texts in progress, proposals of projects, events and meet-ups, and more. This introduction continues below the updates.
Under the Banyan Tree is a complete overview of units posted and pending. There are 504 unit-lessons published on Nemeta so far (November 2021) and 320 on private setting.
****************************************************************
Saturday 28th May 2022: New unit published in a new block, Cosmic Projection in course 2 Cosmology: 2 Prelude in Allariz
Tuesday 24th May 2022: New unit published in course 6 Living Myth 6 The Slave Species Meme
Saturday 21st May 2022: Admin will be doing another clean up of all the forums as per JLL's request. To be executed in 7 days time. Save anything you want to keep this week.
Monday 16th May 2022: New T&T in Dog Zen Hits on Huang Po
DWW47 Parts 2&3 audio synopses added DWW 47 The Day of the Albatross
Friday March 13th 2022: New unit with talk on The Transmission of the Lamp in a new block, SAMPLING CH'AN AND ZEN, in Dog Zen.
Not in His Image publication date in Japan 6th June 2022.
Monday 10th May 2022: Long-time Kalika brought this book to my attention. Published in 1992: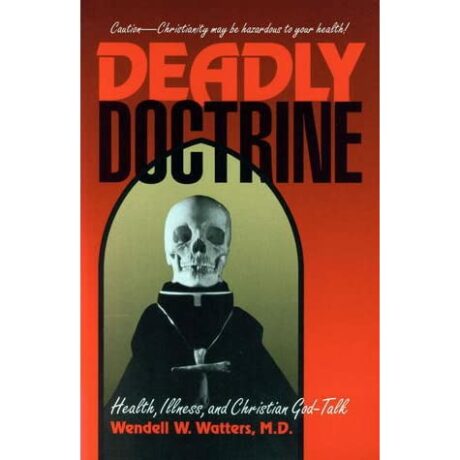 Preview notes: The Christian religion presents itself as the way to contentment, spiritual health, and salvation. But is this really true? Dr. Wendell Watters offers a powerful argument, based on his many years of clinical experience with individuals, couples, and families, that Christianity's influence actually militates against human development in such vital areas as self-esteem, sexuality, and social interactions. The tragic end result of Christian conditioning is too often antisocial behavior, sexual dysfunction, poor psychological development, anxiety, and even major psychiatric illness.
Christian indoctrination is not simply a problem affecting individuals or single families; the noxious effects of its teachings over nearly two millennia pervade society at large, even those who are not Christians, and in ways that seriously undermine human welfare and the quality of life. Christianity's aggressive pronatalist policies have encouraged large families, despite parents' inability to cope either emotionally or financially. With this the Christian church has formulated rigid sexual roles, forbidding all practices not leading directly to conception. By actually promoting sexual ignorance and irresponsibility, Christianity has allowed the proliferation of such social ills as rape, child molestation, and pornography.
In the face of so much human suffering resulting from Christian doctrine, it is imperative that health care professionals, recognizing the Christian belief system as an addictive disease, develop a religious status examination to help evaluate how notions about life derived from Christian god-talk compromise individuals' healthy functioning. In failing to determine the role of oppressive religious beliefs in mental illness, physicians and other health care workers actually promote Christianity's continued stranglehold on human happiness and self-fulfillment. §
DWW47 Pt. 1 audio synopsis added DWW 47 The Day of the Albatross & Dakini Weather Watch Audio Synopses
Wednesday 4th May 2022: Visitors please note the special message from the Maine professor in the PT forum: What's It to Her? With reference to the talk linked below. Entrance requirement for all visitors.

Members of the faculty take note: important qualification on comments in the audio in DWW 47 on cat-and-mouse humor.
When considering how the Aeonic Mother can be cruel, never assume that acts of cruelty committed by human animals in the social order are expressions of, or evidence of, her kind of cruelty.

When considering how the Aeonic Mother can be cruel, never assume that acts of cruelty committed by human animals in the social order are expressions of, or evidence of, her kind of cruelty. Sophia does not permit them and she does not prevent them. The Aeonic Mother is not responsible for cruelty committed by human animals in this experiment. Nor is she responsible for the actions taken against those who commit such acts. That is not how this experiment works. "Her kind of cruelty" is an aspect of the natural world to be considered with great care and, as far as possible, comprehended on her terms without regard for routine human emotions….
Monday 2nd May 2022:
Sadly and badly wrong: Terence McKenna on Gnosticism. Some of you will know how much I like and respect Terence McKenna, and how much attention I have devoted to his work over the years. He was brilliant in many ways, a true trailblazer and dauntless psychonaut. All the more sad, then, to see how he mistakes and misrepresents Gnosticism in this short clip. It is truly terrible to see how, in citing the Valentinian version of the Sophianic narrative — which I myself have discussed extensively, contrasting it to the Sethian version which I teach — terrible to see, I must repeat, how he calls Sophia an Archon. Any first-level student of Gnosticism would not make such an error. Doing so, he cites his source, Valentinus, wrongly: the Valentinian system did not posit 36 Archons but 36 Aeons. Ouch. Unfortunately, those others representing and propagating Gnostic views today hold to the view that Terence sets out here. Only I hold to a contrary view. We are not strangers in this material world, although we are certainly strange participants in the social world. We are magical children of the Aeonic Mother and we belong here.
And, as if it couldn't get worse, it does. Terence invokes the scintilla, the soul-spark of divinity, as the transcendent factor in Gnosticism, but I have shown that the "divine spark" is a deviant and subversive Talmudic theme evident in the Cabala and the Zohar. The transcendent factor in Gnosis is nous, divine intelligence. You are endowed in your faculties as a human animal with a spark of divine intelligence, you are not a spark of divinity. Not a lost and fallen fragment of the godhead, as Judaic scripture proposes. I never imagined that Terence could blow it this badly.
Day 2 of Bhudevi and Wrathful Green Tara Shift 2022
DWW48 in Breaking Nous DWW 48 The Beauty That Kills
April 2022 School Activity now archived to The Menhir's curriculum units: The Menhir April 2022
******************************************
The Home Story (FGS)
For the Fallen Goddess Scenario (FGS) free online course in 9 episodes, visit Sophianic Myth | The Fallen Goddess Scenario
******************************************
Dog Zen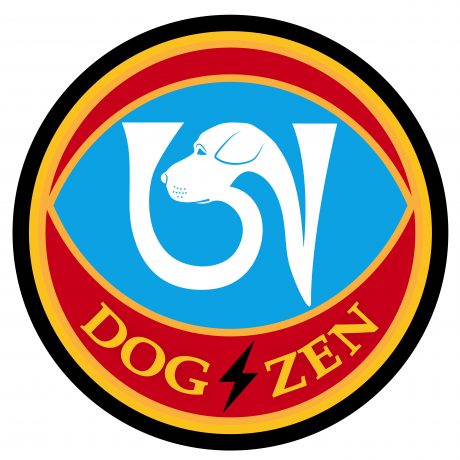 ======================================================================
Introduction to The Menhir, Continued:
Notifications sent out via the Mailing List to both Members and Subscribers will also inform you of these ongoing activities. This page mirrors those periodic announcements by email and in some cases alerts you to new content, be it talk or text, that gets omitted from the announcements due to the rapidity and fluidity of John's ongoing efforts to amplify the curricula, refine and reframe the content, and provide clear and "simplific" direction for your studies.
Announcements at the Menhir consistently track progressing content throughout the School and in 16. Planetary Tantra, free to all. It will also signal content on 18. Breaking Nous, and 17. The Terma and the Terton, available to Members only.
The sacred groves where the Mysteries were originally performed were sanctuaries of natural beauty where rocks and mineral formations were carefully observed. There might be a special rock at the boundary of the sanctuary, as there was a "stepping stone" on Infinity Ridge: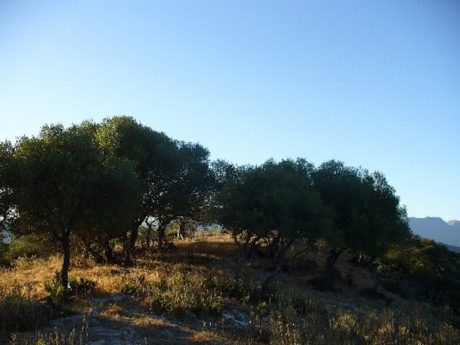 There it was a flat stone (barely visible in this photo) on the left at the base of the wild olive standing offside the welcome grove. When you stepped on it you formally entered the ritual space of the Ridge, then proceeding through the gracious arboreal corridor to the Devi Tree. (Sierra del Hacho, Andalucia. Sierra de Libar to the right, northwest)
In many cases, sacred stone markers were erected in the wild sanctuaries. A single standing stone was called a menhir (Brythonic maen, "stone" and hir, "long"). An arresting geomagnetic marker in the force field of the nemeton, the menhir had acoustic properties as well. Touching it, you could hear differently. Sitting in contact with it would deepen the shaman's reach into the Nagual. It also served as a geodetic marker for placing the local site in the setting of seasonal cycles, aligned to the solstices and equinoxes, the cross-quarter days, and the rising and setting of prominent stars. Hence, it was a multi-purpose tool of orientation.
It is advisable to check the Menhir for orientation on Nemeta from time to time. Below you will find entries listed in reverse chronological order, most recent at top for easy access. This list will grow and morph in the course of each month. At the completion of each month, the activity recorded will be archived in the curriculum panel: "ARCHIVES"
One final word: I do wish to keep Nemeta supplied with occasional fresh input, additional to what it requires of me to maintain the burgeoning structure, the ongoing organization of the Blocks, editing, revision, etc. But I can only do what I can do, and as it pleases me… Time is at premium for me now and I have undertaken a writing project, the consummation of my life's work and the closing revelation of my mystic journey.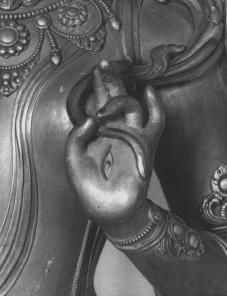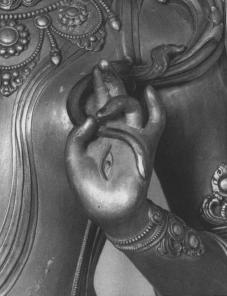 Teach as you learn
– jll Autumn Equinox 2018
___________________
Course Curriculum
THE MENHIR 2022
The Menhir April 2022

1012 years, 10 months

The Menhir March 2022

1012 years, 10 months

The Menhir February 2022

1012 years, 10 months

The Menhir January 2022

1012 years, 10 months

THE MENHIR 2021
The Menhir December 2021

1012 years, 10 months

The Menhir November 2021

1012 years, 10 months

The Menhir October 2021

1012 years, 10 months

The Menhir September 2021

1012 years, 10 months

The Menhir August 2021

1012 years, 10 months

The Menhir July 2021

1012 years, 10 months

The Menhir June 2021

1012 years, 10 months

The Menhir May 2021

1012 years, 10 months

The Menhir April 2021

1012 years, 10 months

The Menhir March 2021

1012 years, 10 months

The Menhir February 2021

1012 years, 10 months

The Menhir January 2021

1012 years, 10 months

THE MENHIR 2020
The Menhir December 2020

1012 years, 10 months

The Menhir November 2020

1012 years, 10 months

The Menhir October 2020

1012 years, 10 months

The Menhir September 2020

1012 years, 10 months

The Menhir August 2020

1012 years, 10 months

The Menhir July 2020

1012 years, 10 months

The Menhir June 2020

1012 years, 10 months

The Menhir May 2020

1012 years, 10 months

The Menhir April 2020

1012 years, 10 months

The Menhir March 2020

1012 years, 10 months

The Menhir February 2020

1012 years, 10 months

The Menhir January 2020

1012 years, 10 months

THE MENHIR 2019
The Menhir December 2019

1012 years, 10 months

The Menhir November 2019

1012 years, 10 months

The Menhir October 2019

1012 years, 10 months

The Menhir September 2019

1012 years, 10 months

The Menhir August 2019

1012 years, 10 months

The Menhir July 2019

1012 years, 10 months

The Menhir June 2019

1012 years, 10 months

The Menhir May 2019

1012 years, 10 months

The Menhir April 2019

1012 years, 10 months

The Menhir March 2019

1012 years, 10 months

The Menhir February 2019

1012 years, 10 months

The Menhir January 2019

1012 years, 10 months

THE MENHIR 2018
The Menhir December 2018

1012 years, 10 months

The Menhir November 2018

Unlimited

The Menhir October 2018

1012 years, 10 months

The Menhir Sept 2018

1012 years, 10 months